Apple Recipes from Hidden Hollow and Friends
Apple Brown Sugar Tarts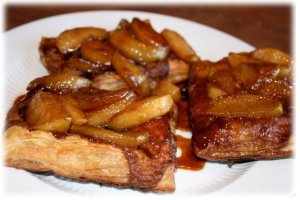 1 sheet frozen puff pastry, thawed (half of 17.3 oz package)
6 T. butter, divided
3/4 C. dark brown sugar, divided
1 1/4 t. cinnamon
1 1/2 lbs. apples, peeled, cored, sliced

Position rack in bottom third of oven and preheat to 425 F. Unfold pastry and cut along fold lines and then again crosswise to make 6 rectangles. Transfer to baking sheet. Blend 2 T. butter, 1/4 C. sugar, and 1/4 t. cinnamon in small bowl and spread over rectangles. Bake 10 minutes. Pierce crusts with fork and bake another 3-6 minutes or until bottoms are crisp.

While crusts are baking, melt 4 T. butter in skillet over med-high heat. Add apples. Saute until beginning to brown, about 8 minutes. Sprinkle with 1/2 C. sugar and 1 t. cinnamon. Toss until syrup forms and apples are tender, about 5 minutes more.
Transfer crusts to platter. Top with apples, drizzling syrup from skillet. Serve warm or room temp.

Shannon Michael
Crumb-Crust Apple Pie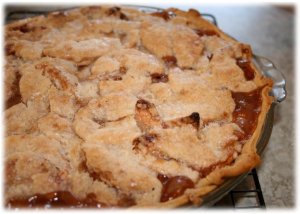 6 large apples, peeled, cored and sliced
3/4 C. sugar, 3 T. flour, 1 t. cinnamon, 1/2 t. nutmeg
1/2 C. flour, 1/2 C. sugar, 1/2 C. butter
1 refrigerated 9" pie crust

Mix 3/4 c. sugar, 3 T. flour, and spices. Sprinkle over apples and toss to coat. Pour into unbaked pie shell.

Using a pastry cutter, mix 1/2 flour, 1/2 c. sugar, and butter until mixture resembles coarse crumbs. SPrinkle over apples.

Place pie on a cookie sheet to catch juices. Bake at 350 F for 70-75 minutes or until bubbly and top is lightly golden. Serve warm or at room temp.
Apple Butter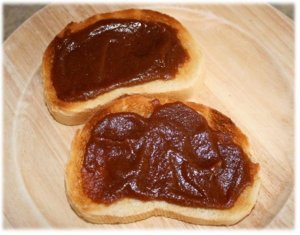 5 1/2 lbs. apples - peeled, cored, and chopped
2 1/2 C. brown sugar
1 T. cinnamon
1 t. nutmeg
1/4 t. cloves

Place apples in a slow-cooker. Combine sugar and spices. Pour over apples and mix well. Cover and cook on high for 1 hour. Reduce heat to low; cover and cook for 9-11 hours or until dark brown. Uncover and cook another hour on low, stirring occasionally. Puree in a food processor or blender. If desired, spoon into freezer containers, leaving 1/2 inch from top. Freeze or refrigerate.
Applesauce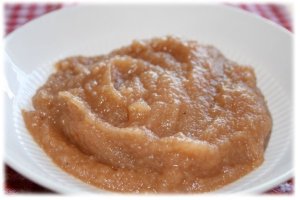 **Makes 20 servings**
20 apples, peeled, cored and chopped
2 to 2 1/2 C. apple juice or water
3 1/2 T. cinnamon
2 C. brown sugar

Mix all ingredients in a large stockpot or dutch oven. Cook over med-low heat until apples are softened. Serve as is, or puree in food processor or blender for smooth applesauce, or puree half and mix together for chunky applesauce.
Lew Lancaster's Wonderful Apple Preserves

4 pounds baking apples (York Imperial or Northern Spy) pared, cored, and sliced very thin
4 pounds sugar
cinnamon bark, broken in 1/2" to 1" pieces
whole cloves, about 4 or 5 to a jar

Leave sliced apples, with sugar on top, overnight. Cook until "just right" (which means, about how you would cook a thick jelly). At the very end, add the cloves and cinnamon bark. Pour hot into sterilized jars and seal. Add bows, give as gifts, make friends, or simply enjoy.
More recipes from Hidden Hollow
More recipes from our friends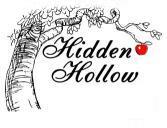 Guide


&copy 2009 Hidden Hollow Orchard
All Rights Reserved